Our Beginnings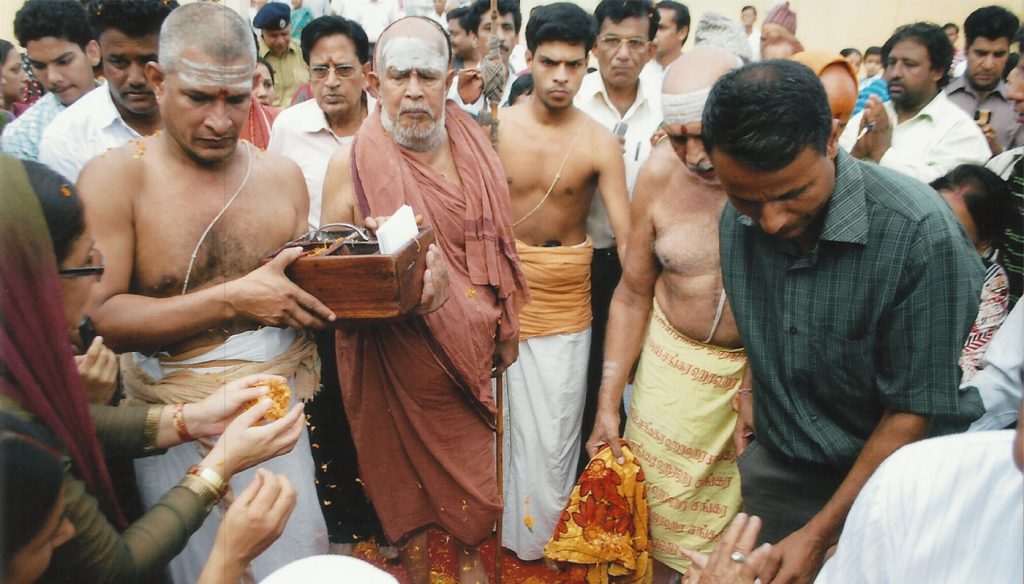 With the divine blessings and guidance of Sri Shankaracharya Ji and with an innovative idea in the field of Vedic education ' Sri Triveni Sanskrit Vidyapith ' was established on January, 2001. ' Sri Triveni Sanskrit Vidyapith ' is a Vedic Gurukul with a vision to enhance our students ability to grow as a spiritual leader and conscious scholars. We have started our journey back two decades ago with four local children and with limited resources with us. Our journey has been difficult in the following years with many problems and achievements. Improper infrastructure and unaware problem where always around us. As the time passed away, we begin to expand and many people came forward to help us in economical as well as physical help. Our society ' Sri Triveni Sanskrit Vidyapith ' was registered in 2004 which was a great leap for us to grow our Gurukul and make us empower to help the needy students. During the year 2005 many local people who were our neighbors came forward to donate small part of land for our Gurukul to expand our infrastructure so that we can accommodate many more students. This has helped our society to grow more and help us to expand our reach to help children who are backward in terms of financial help.
Our Teachings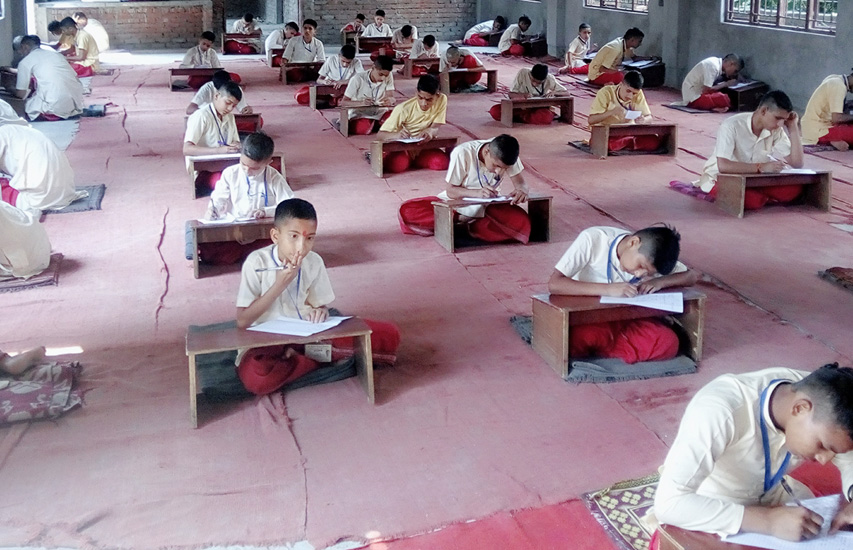 Students from many states come to acquire knowledge in Vedic teachings in our Gurukul, they come from Sikkim, Manipur, Assam, Bihar, U.P., and many nearby places. Our Gurukul has different teaching such as Veda, Sanskrit, Vyakaran, Karma kanda, Astrology, Moral Values, Mathematics, Social Science, English etc. Gurukul the word itself has a value in one's life and our students follow all the rules and regulations that one should follow to become a well intellectual person for the society.
Our Schedule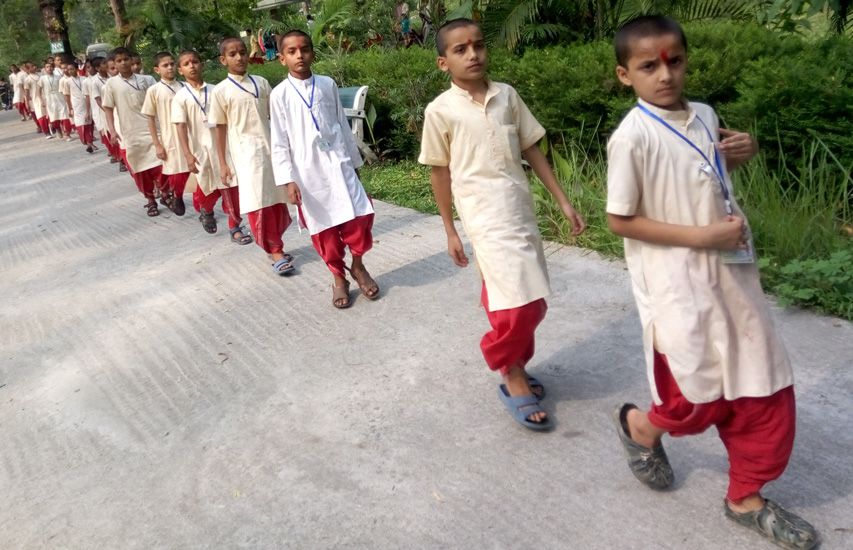 Our Gurukul begins with early morning 'Yogasanas', 'Surya Namaskar', 'Sandhya Vandan' with meditation done to enhance our inner spiritual. Students are provided breakfast and after morning assembly is held students have classes of Veda, Sanskrit, Vyakaran till noon. At noon lunch is provided to all our students along with the employees working in Gurukul. Rest is a best remedy to boost our energy hence one and half hour rest is provided to students to boost their mental as well as physical health. At 1:30 PM series of classes such as English, Mathematics, Computer Science, Social Science are taught by our experienced faculties. Sports is a loved hobby by all of us here in Gurukul our students are given one hour to play their favorite sports. At evening 'Sandhya Vandan' is performed along with the worship of all God and Goddess in our temple. Dinner is served to students at 7:00 PM and after that Astrology is taught by our Guruji to help them to provide a realistic vision to understand the stars more clearly.
Our Festivals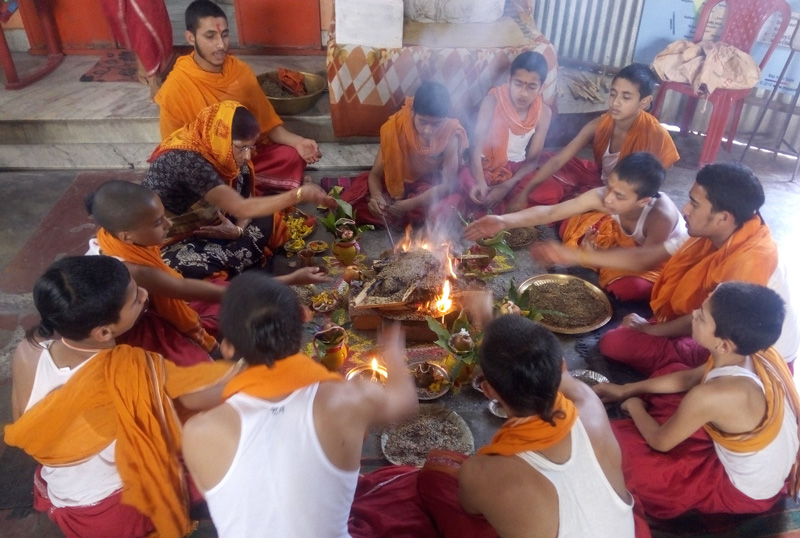 Many religious festivals such as Ram Navami, Hanuman Jayanti, Akshay Tritiya, Guru Purnima, Raksha Bandhan, Independence Day, Sri Krishna Janmashtami, and many other festivals are celebrated with enormous joy and happiness. Gurukul performs 'Vedic Havan' to purify the air and environment so that a positive energy is around us to guide us to the right path.
Our Faculties
Vaidic Education
It is the function of the teacher to lead the student from the darkness of ignorance to the light of knowledge. From the Vedic age downwards, the teacher has been all along designated as the spiritual and intellectual father of the student. Without his help and guidance, no education is possible. In our Gurukul our Gurujis are focused to develop a child in a well-disciplined, sacraments, culture and practical way.
Modern Education
Trained, highly qualified and experienced teachers are appointed to impart education. Compassion, devotion to duties, good manners, helpfulness, dedication and strong belief in spiritualism are some of the prerequisites of teachers at ' Sri Triveni Sanskrit Vidyapith '. Our gurukul is focused in modern way of educating the students where they have the basic knowledge of Compute Science, Mathematics, English, Social science and other moral values.
Our Facilities
Hostel Facility
We have a proper infrastructure of approximately 6000 sq.ft. with four storey building with well equipped fire extinguisher, light facility, 24X7 water facility in all the storey. Kitchenette is on the ground floor with well-equipped library, computer practical room and well nurtured playground for our children
Mess facility
Vegetarianism is considered Sattvic bhojanam, that is purifying the body and mind lifestyle. Our Recipes are based on Temple Cuisine of Ancient Vedic India. So, we give a pure vegetarian diet to our children which include nutrient-dense foods as rice, wheat, dahlia, including fruits, vegetables, sprouted whole grains, fresh fruit juices, legumes, nuts, seeds, honey, and herbal tea is prepared in hygienic neat and clean kitchen equipped with modern appliances. The menu is prepared in consultation with renowned dieticians keeping in mind a well-balanced diet for good nutrition and taste of the children.